So, yeah, I dunno if 4Padfoot made it or found it, but she drew my attention to it and so now I draw yours to it, too…
And it's a damn good thing that I just finished Andre like 10 minutes before cause my eyes are glued to the magnificence that is Jason Momoa as Aquaman – BUT HE'S REALLY MY SEVRIN…mostly…
Oh, yeah, The Revealing of Andre is FINISHED!!!!!  YES!!!  FINALLY!!!  I'll give it the once-over and possibly be posting it tonight or tomorrow.  ANDRE IS FINISHED!!!  HE MIGHT EVEN LET ME CONTINUE WITH THIS WHOLE "LIVING" THING AN' EVERYTHING!!!  (Yeah, he can be a little scary…)

*whew*  It's only been going on for HOW LONG now?
S'hup.
Enjoy the Sevrin, erm, yeah whatever, gif below compliments in whichever way of 4Padfoot.  (She's also safe to blame for any lunches left unfixed or dinners left uncooked or chores left undone or…or…or…)  😀
○
Oh hai Sevrin…unf………………………….
○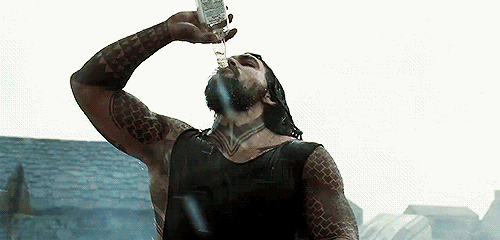 ○
ANDRE IS FINISHED, Y'ALL!!!  ALLLLL FINISHED!!!
○
○
○
○